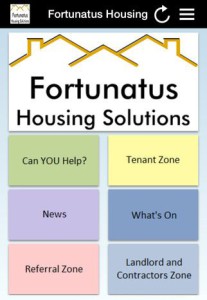 An app deployed by a housing provider to allow vulnerable tenants to communicate more easily with them was highly commended in the Excellence in Innovation category of the annual Institute of Revenues, Rating and Valuation Performance Awards last week.
Based in Cheshire, Fortunatus Housing Solutions provides supported housing to adults with mental illness and learning disability. Its 146 properties include  a safe unit in Wigan for adults who have just come out of long-term care or hospital.
The free app, created in Capita's Engage platform helps tenants, their families and the wider community to communicate with Fortunatus at any time. It allows users to report a fault or request a repair through a simple interface or access news, benefits advice, as well as information on mental health support agencies and local events.
"We wanted something that looked simple and colourful and we wanted to make it easy to use", says founder and Managing Director Catherine Nicholson.
The app also offers an easy route to Fortunatus for tenants' families and supporting services. For example, social workers and community mental health teams can refer vulnerable adults in need of housing via the app, and within the 'can you help?' feature, donors can send money directly to Fortunatus.
Not just a 'nice-to-have'
While a Housing Support Officer assists each tenant to resolve problems related to their tenancy, such as paying the bills, they only work during office hours. Out-of-hours help is offered but, due to the sometimes complex nature of tenants' illnesses, many reported that they felt too anxious to call the service. According to Fortunatus, for some, it was too overwhelming.
The knock-on effects were potentially very damaging. If left unreported, a small problem such as a leaking roof could escalate into a collapsed ceiling.
The organisation continued to thrive but engagement between tenants and the organisation remained limited. As demand on Fortunatus grew, so did the need to provide a better way to communicate with the organisation.
Now, the app lets tenants and their families request a repair or ask for help, even in the middle of the night, with no need to speak to anyone.
"The motive was to encourage our tenants with mental health problems to engage with us", Nicholson says. "Recent research shows that individuals with mental health problems find using social media and apps makes them feel 'normal'. This was our main driver".
Lessons learned and recognition
Other housing organisations and charities have recently begun to approach Fortunatus to know more about the app and improving customer engagement. Nicholson has some tips. She says that organisations would do well to really understand who their market is and work out precisely what they want to achieve before the design process begins. "Also, give ownership of it to someone in the company, so that it can be kept up to date and relevant. Once the app goes live, do a simple, straightforward mailshot to your customers encouraging them to download the app", says Nicholson.
She says the greatest lesson learned however is "to work with someone who knows what they are doing, rather than try and do it yourself. The app is a great way of communicating with our residents for whom accurate information about local activities and services is a lifeline".
Read more about the Engage app.
Note:
The Local Digital campaign uses the Engage platform to offer our free-to-download app offering news, event registration and access to helpful local government resources on digital transformation in the public sector. Download it for Android devices or for Apple devices.
Image credit: Capita. Engage app screenshot in use by Fortunatus Housing Solutions.